Inclusive fertility care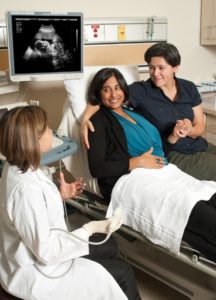 In the spirit of Pride Month, we are spotlighting some of Mount Sinai Fertility Clinic's efforts to foster an inclusive environment, in particular, changes the clinic has implemented in order to become a more welcoming space for all members of the LGBTQI2S community.
Recognizing that achieving accessibility and inclusivity is an ongoing process that requires collaboration, Mount Sinai Fertility established an LGBT Care Advisory Committee in partnership with Sinai Health System's Human Rights & Health Equity Office in 2016. The Committee, comprised of staff and volunteers including former patients, oversees, discusses and administers steps to ensure the Fertility Clinic is a welcoming place for lesbian, gay, bisexual, trans, queer, intersex and two-spirit patients.
Giselle Bloch, a member of Mount Sinai Fertility's LGBT Care Advisory Committee, joined the group with the intention of helping the Fertility Clinic make strides towards community inclusiveness. "I am the mother of an adult transgender son and an adult gay son… when the committee comes up with suggestions, the appropriate people take action," says Bloch.
While the medical community has traditionally viewed gender and sexuality on a binary scale, Mount Sinai Fertility has undergone extensive efforts to help change this perspective within its clinic. In order to ensure all members of the community—including those that identify outside of "male" and "female" parameters feel welcome, Mount Sinai Fertility Clinic has completely revamped their documents and forms to be gender inclusive and uses welcoming language.
The Fertility Clinic also supports a number of assisted reproductive options for members of the LGBTQ2IS community, such as donor eggs, donor sperm, gestational carrier options, fertility preservation for trans people who produce sperm, fertility preservation for trans people with ovaries and uteri, donor insemination and intrauterine insemination. The Fertility Clinic has also improved LGBTQI2S visibility and awareness within their location by placing signs and posters throughout the clinic to demonstrate the commitment to LGBTQI2S inclusive care.
"I believe that Mount Sinai Fertility is on the right track, although there is still much work to be done. We must all recognize that language can hurt, body language can hurt, stares can hurt, judgments can hurt, and most important, assumptions can hurt," says Giselle. "All staff must learn the numerous ways to respect LGBTQI2S people while providing them with the best medical care possible. Every person deserves equal respect and compassion, and Mount Sinai Fertility s well on their way to making their facility a safer space for members of the LGBTQI2S community."