GROWING A FAMILY: A SAME-SEX COUPLE'S SINAI HEALTH FERTILITY JOURNEY
Before they even started dating, Michaela and Nicole Torrie both knew they wanted to have kids. As soon as they were married, starting a family was their top priority – but weren't sure where to begin.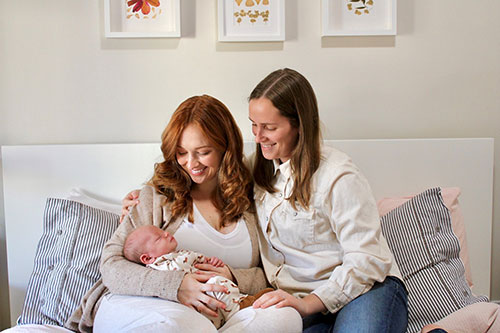 They scheduled consultations with a few different fertility clinics but felt they all fell short in understanding the requirements of a same-sex couple. "We wanted somebody who would understand we weren't coming from a medical history of infertility, we were just missing some of the parts," explains Michaela. "We wanted to do a reciprocal IVF, where I carry with Nicole's egg. One of the fertility doctors didn't really know much about it."
That all changed when they met Dr. Kimberly Liu, an Infertility Physician and Medical Director of Mount Sinai Fertility. "She immediately knew what reciprocal IVF was, had done it before, and put us on the waitlist right away," says Michaela. "After that, she walked us through the steps of what we'd need to do, helped us think about sperm donors and sperm banks, and we just appreciated her going through the steps with us for that process."
Just a few short months after Michaela and Nicole began their fertility journey, COVID-19 hit – which meant extending their already-slow IVF waitlist time. "The fertility clinic closed right when we planned to start treatment. Because of the IVF waitlist, we were already putting it off for a while. So we tried Intrauterine Insemination (IUI) in the meantime," says Michaela. "Luckily, we were notified we were at the top of the IVF waiting list, which is what we wanted to do in the first place. Nicole did her egg retrieval in December of 2020 and got four embryos. The third embryo was the charm and we got this little guy," gesturing to their newborn son bouncing on Nicole's lap.
A year later, on December 2nd, 2021, Michaela delivered Iggy. Just a few months old now, Iggy's favourite toy is a pastry brush, he is very chatty and he hates long car rides. As for Michaela and Nicole, their favourite part about parenthood is watching Iggy explore the world around him. "It's so cool watching him learn new things, laughing and smiling. It's so interesting to watch his personality come out," adds Nicole.
Michaela and Nicole could not be more grateful to Dr. Liu and the entire team at Mount Sinai Hospital. "We are so thankful we have Iggy. They helped us through this process," says Michaela. "We met so many incredible nurses and wonderful people along the way."
While Michaela and Nicole acknowledge there is still room for improvement when it comes to same-sex fertility treatments, their advice to other same-sex couples is clear: "We've recommended people go to Mount Sinai Hospital," says Michaela. "Our advice is start early. By the time you're ready for a baby, you still have six months to a year of tests and everything else before you get to conception. Especially if you're doing IVF, there's the added wait time."
What's next for Michaela and Nicole? They want to make Iggy a big brother. "We're already on the waitlist at Sinai Health for baby number two," says Michaela. "This time, Nicole will carry a baby from my eggs. We're meeting with our doctor in September and will hopefully be ready for IVF in December or January. We are so excited to add another baby to our family!"
Source: Sinai Health Foundation