Cycle monitoring takes place during the first half of the menstrual cycle to follow the development of ovarian follicles. Each follicle should contain an egg that will mature as the follicle grows, and eventually ovulate or release. We may monitor a natural cycle (no medications to stimulate the ovaries) or a cycle in which fertility medications are used.
Monitoring involves a blood test and an internal (transvaginal) ultrasound to track the development of a follicle (or follicles) and monitor for ovulation. This usually involves 2-3 appointments during the first two weeks of the cycle, though more appointments may be needed.
Appointments are scheduled between 7:00 and 8:45 am at Mount Sinai Fertility, though some monitoring may be done with urinary ovulation sticks.
Before you start:
 All individuals planning to undergo an intrauterine insemination (IUI) or timed intercourse cycle must have proof of varicella and rubella immunity from the past year. Those planning IUI (and, if applicable, both partners) also require other viral blood work, such as HIV and hepatitis testing, which must be done before starting the cycle. We kindly request that 3 to 4 weeks after you have completed this blood work you call and leave a message at (416) 586-4748 with your first and last name (per your Health card), date of blood tests, name of lab where blood was taken and a phone number where you can be reached.
Ready to start:
For patients who have a regular menstrual cycle on their own: On Day 1 (first day of full bleed, any time during the day), call and leave a message on our voicemail at 416-586-4748 and include your first and last name (per your Health card), the date of your Day 1, and a phone number where you can be reached. A registered nurse (RN) will call you back by the end of the next day.
Take the tour!
(see below for details or download our Guide)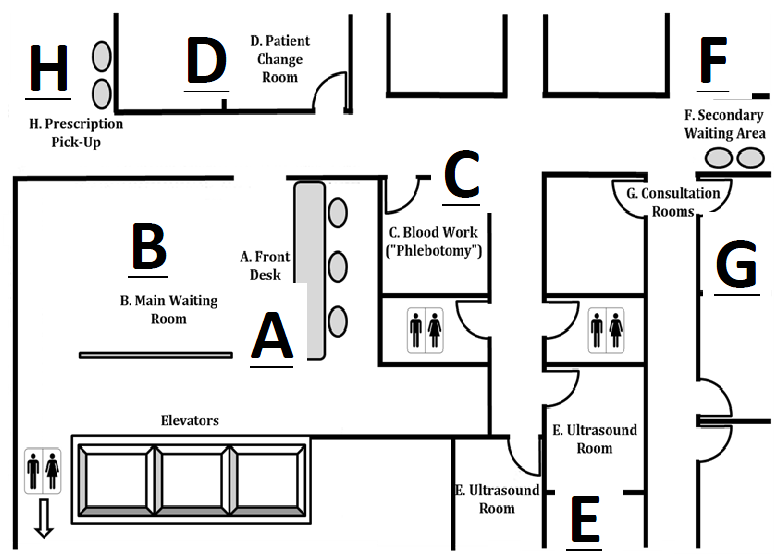 1. Check In ("A" on map)
Upon arrival, check in at the Front Desk with your Health Card and Mount Sinai Hospital Card.
Take a seat in the Main Waiting Room ("B" on map) until your name is called to have your blood drawn.
2. Bloods – Phlebotomy ("C" on map)
You are not required to change out of your clothes for the blood test, but make sure you wear a short-sleeved top or a top with loose-fitting sleeves that can be rolled up.
When your blood work is complete, go to the Patient Change Room ("D" on map).
3. Ultrasound Preparation
Unless otherwise arranged, you will need to change into the hospital gowns provided for an internal ultrasound.
Please put on two gowns, the first to cover your front (ties in the back) and the second to cover your back (ties in the front). There is a poster in the change room with more detailed instructions if needed.
Once you have changed, take a seat in the change room ("D") until you are called for your ultrasound.
4. Internal Ultrasound ("E" on map)
Before the ultrasound, you will be given the opportunity to remove your tampon or pad (if necessary), empty your bladder, and remove your footwear. It is recommended that you wear a pad instead of a tampon on the day of your appointment.
Unless otherwise arranged, you will return to the Patient Change Room ("D") to get dressed when the ultrasound has been complete.
Next, go to the end of the hallway (past the rooms where you had your blood drawn and ultrasound performed) and take a seat in the chairs by the window ("F. Secondary Waiting Area" on map).  A nurse will call you for your consultation.
5. Consultation and Teaching
Your session with a nurse will be held in one of the consultation rooms ("G" on map).
During the consultation you will be given details about the next steps in your treatment, and this is the opportunity for you to ask any questions you may have.
Once your consultation is done, go to the Front Desk ("A") to book your next appointment (if necessary).
6. Prescription Pick-up ("H" on map)
If you are filling a prescription, please give it to the staff at the Front Desk and then go to the Billing Office (Beside "H. Prescription Pick-Up" on map) to make the payment.
While waiting for your prescription, please take a seat in the chairs by the Billing Office ("H"). Your prescription will be brought to you (average wait time is 10-20 minutes).